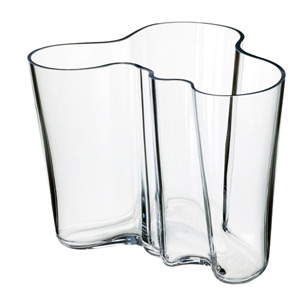 The Aalto Vase is one of the most iconic glassware pieces in Finnish design. Created by Alvar Aalto, the vase was originally designed for the Karhula-Iittala glassworks factory in 1936. It wasn't until the following year that it gained world fame and recognition as Iittala had unveiled it at the 1937 World's Fair in Paris, France.
There are numerous stories about what inspired the design of the vase; some believe that it's based on Aalto's drawings of a Sami woman's dress (the sketch is titled, "The Eskimo Woman's Leather Breeches"), while others says that the fluid shape might be inspired by the outline of a Finnish lake. Regardless of its questionable origins, one thing remains indisputable: its serene beauty.
Iittala's artists continue to produce Alvar Aalto's popular vase in various colors and sizes.
Source: iittala.com, aalto.com & Alvar Aalto: The Complete Catalogue of Architecture, Design and Art. by Göran Schildt