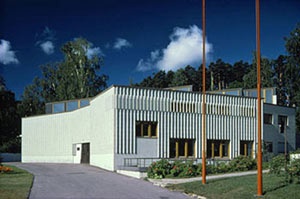 Located on a slope leading down towards Lake Jyväsjärvi,  the Alvar Aalto Museum serves as a showcase of Alvar Aalto works, an information center, organizes Aalto exhibitions, produces publications, and perhaps most importantly its work in preserving Alvar Aalto buildings throughout the world.
The museum building itself was designed by Alvar Aalto and work was completed in 1973. The following is a description of the building by the Alvar Aalto Museum:
"Above a high, white-painted concrete plinth, the elevations of the Alvar Aalto Museum are clad in light-colored ceramic tiles named 'Halla', the Finnish word for 'Frost', and made by the famous Finnish porcelain manufacturers, Arabia. The vertical bands of baton-shaped, glazed tiles divide up the rampart-like elevations to form a relief that gives a strong effect of depth when the surface is washed with light. The rampart-like quality is emphasized by the vertical battens on the roof windows of the exhibition galleries, which cause the roof lights to merge into the façade when looked at from a certain angle.
The entrance façade has no windows apart from a few tiny openings close to the doors. The surface of the massive doors is copper and there is a hint of marble on the left-hand side of the doorway. The roofscape is dominated by the east-facing roof lights.
The lower floor houses the foyer and cloakrooms, café, Artek Shop, offices, library and space for storage and for the photographer. There is a small flat at the back of the building containing offices, plus a studio formerly used by the local society of artists, which now acts as the museum workshop 'URBS'. From the café there is a view towards a series of open-air pools, with water trickling from one to another along the route of what was once a natural stream. Light draws one from the dimly-lit foyer to the stairway leading up to large exhibition gallery on the upper floor.
The upper-floor exhibition gallery is about 700 m2 in area. The wave-like surface of the high rear wall clad in pine battens is a reminder of the wall of Aalto's pavilion at the New York World's Fair in 1939. Daylight filters into the gallery through the roof lights. Despite its lightness, the space is contained and intimate. The large exhibition hall houses the museum's permanent exhibition – Alvar Aalto, Architect. In the Gallery there are changing exhibitions on architecture and design. "
The Alvar Aalto Museum is open Tues-Sun (11am-6pm).
street address
Alvar Aallon katu 7, Jyväskylä (location map)
tel
+358 (0)14 624 809 (from May 22, 2009 014 2667113) (ticket office)
email
museum@alvaraalto.fi
website
http://www.alvaraalto.fi/
photos via: http://www.alvaraalto.fi/