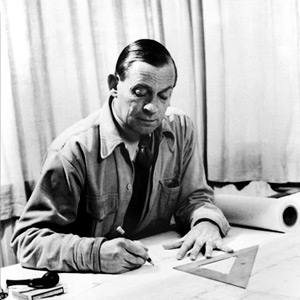 Alvar Aalto's name is well-known throughout the world of modern architecture and design. Over the course of his lifetime, he distinguished himself with his flowing vases and avant-garde furniture. Even now, his designs are recreated by Finnish company, iittala, keeping his vision alive through faithful reproductions of his work.
Aalto was born February 3, 1898 in Kuortane, Finland. He went to school at the Helsinki University of Technology where he studied architecture. Upon graduating, he returned to Jyväskylä to open his first architectural office in 1923. He later married famed designer,
Aino Marsio (later Aino Aalto). Together the couple collaborated on a variety of projects, from large-scale architectural designs to furniture and glassworks.
Alvar Aalto's architecture was met with wide acclaim among modernist circles. He designed buildings both in his native Finland and abroad. His works include the renowned Finlandia Hall in Helsinki, Finland as well as the Baker House at Massachusetts Institute of Technology. Alvar Aalto approached modernism from a humanist perspective, designing buildings that were meant to delight the people who inhabited them. He has been credited with being one of the most influential architects of the Scandinavian modernist movement.
In addition to his architecture, Aalto is also well respected for his legendary glassware, which includes the Aalto vase. The vase was unveiled at the 1937 Paris World's Fair and has been an international sensation ever since. Its mysterious form has become iconic and is still reproduced by iittala in a variety of color waves.
Shop for products designed by Alvar Aalto: