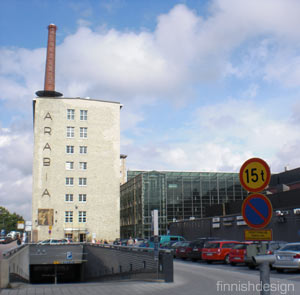 The Arabia Center is the home to the Iittala Arabia porcelain production and is located in the beautifully restored Arabia Factory building just north of the center of Helsinki. The Arabia Center includes the Arabia Factory, shop, offices, Iittala showroom, Arabia Museum and also shops for Finlayson, Pentik, and Opa.
The Arabia Center is conveniently located and easily accessible via public transportation. See http://www.hel.fi/wps/portal/HKL_en for more information.
The Arabia Factory Shop is open daily. Check here for great deals on 2nd-quality Iittala designs as well as discontinued products. You'll also find the entire Iittala collection.
Guided tours to the Arabia factory can be arranged. Tour reservations should be made in advance by contacting arabia.visitors@fiskars.com or tel.+358(0)204 39 5326. Guided tours are available only during factory opening hours on weekdays. Tours include watching porcelain being manufactured and visiting the Iittala showroom and the Arabia museum and gallery.
Address: Arabia Centre, Hämeentie 135 a, 00560 Helsinki