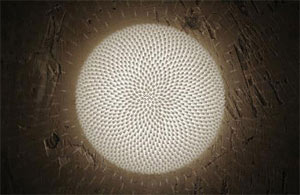 Freedom of Creation (FOC) is where cutting edge technology meets design. FOC is a pioneering design and research company specialized in designing for Rapid Manufacturing. The outcome of this work is either part of the FOC Collection of commercialized by other design labels. The FOC Collection includes: lighting, accessories, textiles and special projects.
Since 2000, the extensive research conducted by FOC in design for Rapid Manufacturing has resulted in innovative and successful commercial products, the development of new materials and software products, and has been the foundation for significant R&D projects with a range of industrial partners. Products have been published and exhibited around the world and have been awarded many design awards.
FOC was founded in 2000, located in Helsinki, Finland.
Freedom of Creation BV was founded in 2006, located in Amsterdam, The Netherlands.