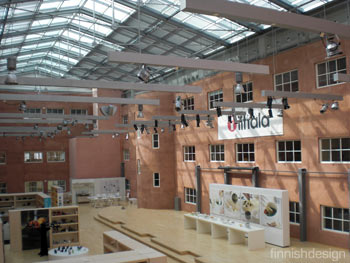 The Iittala Company was founded in 1881 by a Swede named Petrus Magnus Abrahamsson. Due to Finland's lack of skilled glassblowers, the original Iittala workforce was brought over from Sweden. Abrahamsson was a notoriously quarrelsome man, who eventually lost control of the company, but it was his vision that brought the Iittala Company into being.
The company went through a variety of transitions, beginning with its purchase by A. Ahlstöm, owner of the Karhula glass factory. Under Ahlström's direction, the factory specialized in the production of chemist bottles and other domestic items. It was not until the 1920s and 30s, that Iittala as we know it came into being. In that era of burgeoning creativity, Iittala began to produce more artistic pieces. Artists like Alvar and Aino Aalto led the way in creating glassware that was beautiful, modern and functional.
Products of note include Alvar Aalto's stunning vase, which is said to mimic the Finnish coastline. Aino Aalto also set the bar for modern glassware with her unique line of everyday glasses, which are still in production today. Other artists joined the iittala company, introducing their own unique visions to the Scandinavian glassware aesthetic. Tapio Wirkkala, Timo Sarpaneva, and Oiva Toikka were all a part of making iittala one of the frontrunners in the world of modern design.
Today iittala continues to create glassware that is as attractive as it is functional. Its brand encompasses a range of glassware, cookware and art pieces that continue to push boundaries in the name of ingenuity.