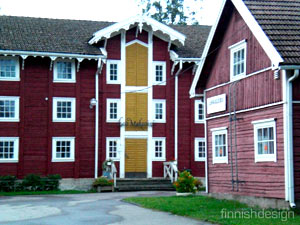 Finland's oldest glass factory is located at the Nuutajärvi Glass Village. Here you will find the world-renowned Toikka Glass Birds still being handcrafted by master glassblowers. For over 200 years, glassblowing has been at the center of this small community.
The Nuutajärvi Factory Shop is open daily. Look for great deals on 2nd-quality iittala goods as well as a full selection of 1st-quality pieces.
In July, The Nuutajärvi Glass Museum is open Tue-Sun, 10am-5pm. Other times are available for groups by appointment only.
Guided tours of the Nuutajärvi Glass Factory are available weekdays by appointment. Contact Leena-Kaisa Salminen, tel. + 358 (0)204 39 3527, fax 0204 39 3531 or by email to
leena-kaisa.salminen@fiskars.com for more details and to reserve a time.
Other things to see at the Nuutajärvi Glass Village include:
Prykäri lasimuseo (glass museum)
Lasigalleria (glass gallery)
Lasikoulu, Tavastia(glass school)
Kahvila-ravintola Café Depont
Kristalli S Nuutajärvi (crystal workshop), LASI sirkus (glass studio), Tiffany-lasi (glassware), Gallery Markku Salo